Areas which WHRDs participate in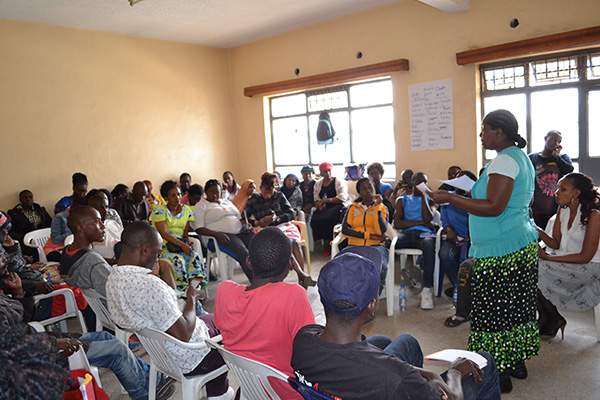 HRD workshop at Mathare Social Justice Centre
 WHRDs can work in many arenas at the local, national, regional, or international levels and carry out different activities such as lobbying and advocacy, education and training, documentation and monitoring, and counseling or facilitating assistance to victims of human rights violations.
They should defend not only women's rights, but also the broader range of civil, political, social, economic and cultural human rights. They ought to be involved in multiple issues that affect themselves, their communities, or the general population.
WHRDs in the urban settlements are hampered by a range of constraints. The survey revealed these as: a lack of relevant skills and capacities, an absence of material needs, a want of support from state and non-state participants and, most crucially, a destabilising and dangerous environment. One organisation working in Nairobi is Bunge La Wamama Mashinani, "Grassroots Women Parliament" in English, based in the Mathare urban settlements. This organisation enables grassroots women in urban settlements to engage with each other, have access to education, information and training opportunities. Bunge La Wamama is also a platform that amplifies the struggle of marginalised communities within the urban settlements.
WHRDs are also involved in general human rights campaigns and sometimes in defending the rights of their particular sector or community with various focuses on gender rights. Some examples include: women who advocate for rights of sexual workers and minors ensnared in sexual slavery and exploitation, and for rights of LGBTIQ persons.
There are other WHRDs who advocate specifically for the rights of women. These include women who work on violence against women, those who defend sexual and reproductive rights, or those who promote equal rights of women in education, political participation, and other areas. These WHRDs seek to challenge patriarchal social formations and notions that institutionalise discrimination against women.
Some HRDs also challenge social and legal frameworks that privilege heteronormativity and that penalise women, and men, who choose to live outside these norms such as single people, single parents, widowed women, and LGBTIQ people. They make the important contribution of including sex and gender identities as part of the work of human rights.
WHRDs merit a special focus for proper protection. The gender stereotypes and assumptions embedded in patriarchal norms and practices, and the manipulative use of culture, tradition, custom and religion expose them to additional violence and risks specific to their gender. LGBTIQ HRDs are similarly at risk because their activism is seen as disruptive of cultural values and traditions.
Responsibility for the information and views set out in this Toolkit lies entirely with the authors.