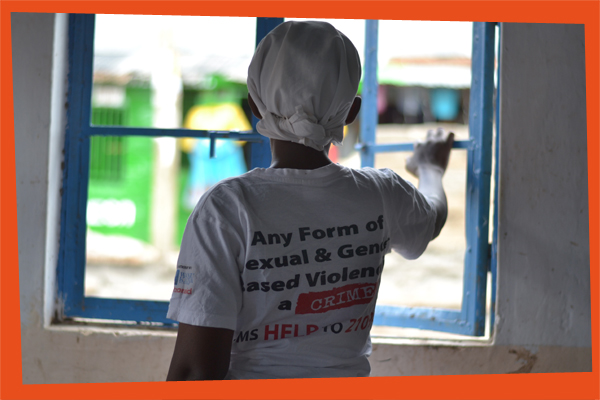 "Once you have seen somebody who has been affected, it pinches you, it hurts you."
When my husband had a work accident in 2007 and passed away, my brothers-in-law told me I had to move from Mukuru to eastern Kenya, where I had to stand all day long with my little child on my back, grinding maize for customers to get flour. My little child developed a health problem but my father-in-law would not let me take her to the hospital. My cousin sent me a bus fare and I went back to Nairobi so I could access medication for my child. My father-in-law then wrote a letter to the company my husband had worked for requesting that they compensate him and not me. I endured sorrow and pain and so it came for me to stand as an activist and as a human rights defender. Up to now, I do not like to see anybody being assaulted or being put in a position that is not worthy of his or her life. It makes me stand firm, to advocate and defend my rights and other people's rights.
As I am an activist, I feel good. I advocate for other people through raising awareness and making sure they know their rights. For example, when we can fight for justice in Gender Based Violence cases. Apart from creating awareness, we link victims and human rights defenders with NGOs to help us achieve our goals.
This work is a calling, but a challenge is that we have so many cases and it is hard for victims or their families to write a statement or be a witness in court. Some fear the threats, some feel that they are wasting their time. It also costs them money to travel to court. Sometimes we take the case and we ask 'are you willing to push this case until legality is found' and they say yes. After following the matter, you will hear that the perpetrator decided to bribe the police or the neighbour will bribe the parents. They try to look where they can bury or hinder the on-going process.
Psychologically, we are affected by our work. Someone comes and threatens you so you get stressed thinking what will happen next. For example, I am a single mother, when someone comes and threatens me, mentally I will be affected because I will be thinking about my daughters. If it happens to my colleague, psychologically I am always stressed because once you have seen somebody who has been affected, it pinches you, it hurts you.
Financially, you are a volunteer and you are called upon to do human rights work. I own a small business selling detergents and liquid soaps, and I ask for a service business, such as laundry work where I go and wash clothes so I am getting something for my ongoing and daily bread.
From my experience, since I got deep into this work of being a human rights defender, there must be passion. I don't want to see anyone being violated, I feel as if I am the one it is happening to. My interest in being a toolkit organiser is that my network will be much stronger and it will generate more courage inside me. Through advocacy, we are able to support the community and see that Mukuru will be a better place for people to move freely, without threats.
Beatrice Khavere
Responsibility for the information and views set out in this Toolkit lies entirely with the authors.