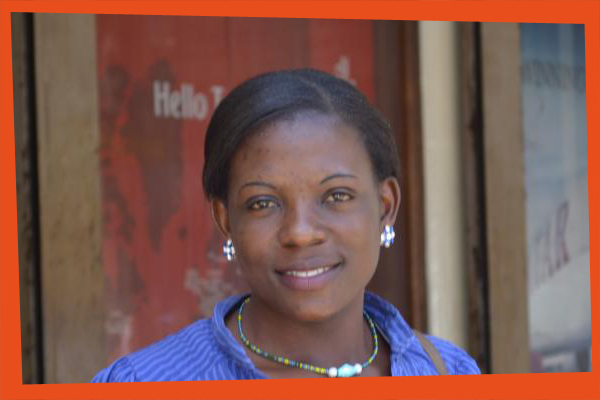 "I feel the pain that others are undergoing"
When I was young I used to have many friends in Mathare, we really enjoyed the life of the slums because we were a part of it. We were born there and it was our home. Living in Mathare, one is always surrounded by people; we school together, we shop together, we work together, we go to church together, we do everything together. Growing up, we were like a family there.
Life in Mathare is not always easy though, women in the slum face many challenges. Women face harassment and insecurity – the latest a woman can walk outside alone is 8pm because later than that she is at risk. I got involved in human rights work because of the issues that my fellow women face; I felt that I needed to do my best to defend these women.
Sometime back, my neighbour, a widow, had her house broken into by a gang and she was raped during the night. She screamed but there was nobody to assist her because everybody feared going out at night. She suffered a lot and I felt so sorry for her. I felt so powerless. I felt that I could not do anything to assist her or other women in my community. However, when I became a social worker, a community mobiliser and a community developer, I was inspired and felt able to support my fellow women. Now I document cases and take them to the police station; I feel like I am helping these women achieve justice.
Supporting human rights is difficult work and the major challenge that we face is lack of support from the authorities. Sometimes, when you report a case, it is not taken seriously and the case cannot progress. This is demoralising. On other occasions, we report cases but the criminal is someone with money and they use their money to get the case dropped. I was handling a case of child rape, where the girl was raped by a senior teacher, but the teacher threatened us and the police did not take the case seriously (perhaps they received a bribe) but we kept on following the case. My family worries about me when I work on cases like this one and receive threats; they are concerned that my human rights work puts me at risk. This case was painful because we really tried to help the girl receive justice but we felt like we were getting nowhere.
Being a social worker[1]. is something that I do passionately; I am assisting the poor and, having grown up in a slum myself, I feel the pain that others are undergoing. What I like most is taking on a new case, trying to solve it and succeeding. I work on peacebuilding, the fight for women's rights and girl child initiatives, including visiting schools to talk with them. I find it rewarding if we succeed with a case and assist a woman who had not been receiving justice. At the end of the day, when a woman achieves justice, I am very happy.
Linet Adoyo Okoth
---
[1] Linet is an active member of Mathare Peace Initiative.
Responsibility for the information and views set out in this Toolkit lies entirely with the authors.