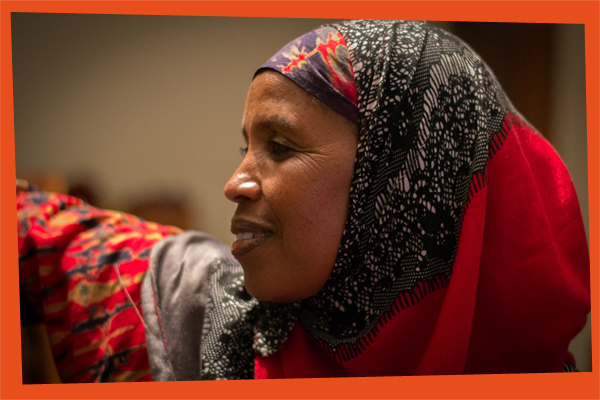 "I never gave up"
"I came to Mathare when I was six. I remember very clearly that during those times, there was no mistrust between the different communities. I would play with all my neighbours whether they were Kikuyu, Luo, or Borana. They were like my siblings, and their parents were like my parents. But this comradery and positive community spirit started to change during my early teens. The community became divided and the frequency of violence increased substantially. I think that politicians are partly responsible for this, because they created mistrust between the communities that did not exist prior to that.
The reason I became a human rights defender and a voice for girls and women is that of my own painful experience. I am a survivor of female genital mutilation and early marriage. I got married at the age of 13 to a man aged 63. When I was 14, I gave birth to my first set of twins who were taken away from me without giving me the chance to hold them. I was told by my mother-in-law that I was too young (to know how) to take care of them. I gave birth to two other sets of twins when I was 15 and 16 and the same thing happened. I began to experience very high levels of stress and distress. It was very painful. I was a childless mother, but not because my children had died.
I had had enough of going through so much oppression, so I decided to go to court. After a long legal battle over the custody of my children, I gained my rights as a parent and I am happy to say that I still have them in my life. I have been very open to my children about my experiences. They are extremely loving and supportive of my work, and I am very proud that my youngest son, whom I had with a man I loved, is following in my footsteps.
Soon after that, I divorced my husband. My parents rejected me because in our culture, I belonged to my husband. Thankfully, my neighbour Wakerema helped us out. She found my children and me a place to stay. We did not have much, just that small mud house and cartons to sleep on, but we had each other. Wakerema taught me how to make changa'a [a traditional home-brewed spirit] which at the time was illegal in Kenya, but it was my only way to survive. I made and sold changa'a for nine years. This enabled me to pay the rent and provide food for my family. When I had saved up enough money, I decided to sell second hand clothes instead.
Already back then, when I would hear that a young girl was being married off to a man against her will, or any time I would hear about female genital mutilation, I would intervene. I would speak to these girls and explain to them that this is not something which is supposed to be happening to them. I would disrupt weddings and scream that this is not acceptable. I would go to the chief's camp or police station. The elders were very angry with me, telling me that of all people (being married, divorced, having taken my children away from my husband, and selling alcohol) I had no right to speak out. I was an outcast on every front, having no rights and no say in the community. But I never gave up.
For me, one of the big challenges of following up on cases of gender-based or sexual violence is working with the police. For instance, I feel that rape cases are not always taken seriously. When an alleged aggressor is not arrested after I report the case, then not only does it become a bigger problem for the victim, but also for me because I also get exposed and start fearing for my own life.
Through my own experiences of oppression (being a victim of female genital mutilation and an early and loveless marriage, having an oppressive mother-in-law, facing a community that doesn't want to understand my problems and the economic hardship that came with raising my children as a single mother), I became passionate about human rights defence work. I feel deeply about justice and think that every single human being, irrespective of their age, community, class or situation they find themselves in, should be entitled to the same rights.
In 2015, I was one of the winners of the Mathare Heroes Award in recognition for my efforts as a human rights activist. When in December 2016, I won the 'Human Rights Defender of the Year' award at the Dutch Ambassador's residence, I thought to myself: "Why me? I can't even read or write! Who am I, compared to all the other nominated people?" But all the words of encouragement I received made me accept that this is something that I am meant to do. Moreover, with these prizes, my community, including the elders, have formally accepted me.
I have always had challenges in my life, but they have never stopped me from achieving my goals. I do not see them as a setback, but rather as a normal process of this struggle and I remain very passionate about my work. All the support I have received from my family and human rights defenders comrades, like Mathare Social Justice Centre[1], the Bunges[2] and Peace Brigades International, to name but a few, has been fundamental in boosting my strength and has given me the energy to continue helping people. The fact that my story has crossed borders and that people from different places of the world have shown so much appreciation for my work, has also given me a lot of strength to continue.
What I want is to let as many people know about their rights and what it means to be oppressed. It would be very important to equip women and men with knowledge on how to act immediately when things happen. I believe that the WHRD Toolkit will empower us, but also the people we work with and those we seek justice for."
---
[1] Rahma Wako is an active member of MSJC, working on  women's, youth's and reproductive rights
[2] Bunge la Mwananchi (BLM) and Bunge la Wamama (BLW) are social movements that engage citizens in public discussion and demand social equality and participatory democracy, certain members of BLM and BLW are actively engaged in human rights work.
Rahma Wako
Responsibility for the information and views set out in this Toolkit lies entirely with the authors.